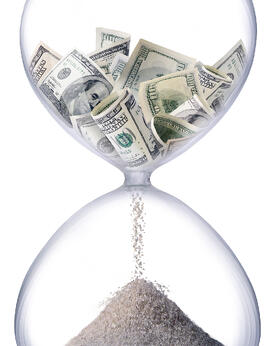 If you're still keeping your papers and records in file cabinets and shared hard drives, chances are you've kept it that way because it's the status quo. It's the only method you know, and it seems to work just fine. One of the most dangerous things about the status quo, however, is that you grow accustomed to the untold amounts of money and time you're losing.
The negative consequences don't make themselves obvious, so when potential solutions come around, you don't even know you need them. One of the most valuable insights I've learned in the business world is that my time has value, and I should take the time to calculate it. When you apply that perspective to your current method of document management, you find out how much little habits really add up.
Consider These Four Status Quo Scenarios
(note: all numbers are purely estimates based on 25+ years of experience in Document Management and Business Process Automation):
1. You're Moving Around Too Much
Let's imagine an employee of yours makes $20 an hour, and let's estimate that he or she spends about an hour a day filing papers, retrieving files, or simply walking back and forth between the desk and the file cabinet. That adds up to about 250 hours a year, which means you're spending $5000 annually for your employee to walk and shuffle papers around. Now ask yourself: how many total person-hours are you having your employees put into this process? Remember, that's just one person.
2. Your Documents Take Up Too Much Space
The average four-drawer file cabinet holds 10,000 to 12,000 documents and takes up 9 square feet of space. If you're a company that constantly has to deal with contracts, invoices, and compliance forms from a high volume of clients, you're looking at easily 100,000 documents that you have to manually manage over the fiscal year. Now ask yourself: do you have a system in place that can handle that volume of documents? When studies suggest that 80% of a company's knowledge is stored in unstructured data, the stakes on your information assets are high to the point of being burdensome.
3. You're Losing Information Assets
Let's look deeper into those 100,000 documents: considering estimates that around 15% of documents are misplaced over time, you're looking at maybe
15,000 critical pieces of paper not being where they're supposed to be. Now ask yourself: what value do you put on a misfiled or lost document? Multiply that by thousands, and you're looking at losses in the six-figure range.
4. Your Documents are Expensive to Maintain
Over one document's life-cycle, an average of about $20-$30 is spent handling it, and that doesn't even figure in costs of copying (most documents are copied 9-11 times), distribution (mailing costs at least $2.00), and printing (for an industrial printer, black ink, color ink, and toner usually come to about $200, and a cartridge will usually produce between 2500 and 6000 copies). Now ask yourself: how many documents you have that go through this cycle?
Real Examples of Document Management Return on Investment

Of course, for every hypothetical situation, there's a real-life success story that results from implementing an effective document management system with an automated workflow process. After switching to DMS:
Bath and East Somerset Council reported an ROI within a year by automating their 50,000 yearly purchase invoices.
Thames Valley Primary Care Agency projects savings of approx. $46,000 and 50% reduced paper consumption.
The Mental Health Center of Denver reported a 1315% ROI after six months.
NHS Wales anticipates savings of $1.6 million when processing 600,000 yearly supplier invoices.
These companies took time to calculate the hidden negative impact on their bottom-line. When they switched to a paperless document management system, the gains were staggering. Sometimes, change only happens when the pain of not changing is worse than the pain of changing. With the numbers above, ask yourself: are you comfortable with the status quo? If so, what is that comfort costing you?