Explanation of Benefits Management System
Your EOB Processing Solution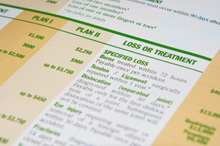 In the healthcare industry, the priority is patient care. But to keep the business running you need to get paid for all the work. The majority of your income comes from insurance payments. But keeping track of all the payments in the massive Explanation of Benefits sent with the payments by insurance companies is an enormous challenge in itself. Explanation of Benefits (EOB's) can be anywhere from one to several hundred pages long. The massive cost associated with storing these documents can put a strain on any size practice. Fortunately, DocuVantage® has a solution.
DocuVantage's EOB processing online storage solution is an easy to use, affordable, on-demand service. There is never any hardware to maintain, software to install or upgrade fees to pay. And you can be up and running, processing EOB's in hours or days, not months. Streamline the entire process - from document creation through document management, routing, approval, collaboration and even records retention scheduling - all for a low monthly subscription fee.
DocuVantage OnDemand® allows you to:
Store and keep track of all your EOB processing and related payments
Eliminate the need for physical storage of thousands of pages of paper documents
Never lose, misfile or misplace an EOB again
Ensure all of your reconciliation procedures are automated without having your staff leave their desks
Retrieve any and every EOB with a few clicks of a mouse
Beyond storage, there are many compliance issues surrounding healthcare documents (e.g., HIPAA). With DocuVantage OnDemand, you can ensure your documents are secured covered and fully compliant. In healthcare audits, lost documents can mean large fines. Don't gamble with your files.
DocuVantage OnDemand isn't just an EOB storage solution; you can share the same system with your co-workers in other departments. One solution for all your companies document and records management needs. All of your information is at your fingertips, from anywhere, at anytime.
Cut EOB storage costs down to pennies
Never lose an EOB again
Rapid Deployment=Rapid ROI
You can be up and running today
Guaranteed user adoption with the user friendly, flexible interface
Know the status and location of every EOB in your system
Enable staff members to view EOBs simultaneously
Never misplace a document again
Eliminate rows of filing cabinets and the costs associated with file storage
Build new examination rooms from old storage rooms
No hardware, software or IT resources needed; we manage the application 24/7