Accounts Receivable Processing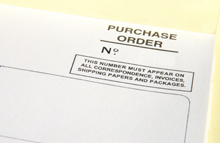 Accounts Receivable (AR) is an essential Back Office function of every company. And an AR department that works smoothly keeps the bills going out and the money coming in. You can make as many sales as possible, but you have to ensure your customer gets billed properly so you can get paid properly.
DocuVantage's Accounts Receivable Solution is a secure, easy to use, affordable, on-demand service. There is never any hardware to maintain, software to install or upgrade fees to pay. And you get up and running in hours or days, not months. Streamline the entire process - from document creation through document management, routing, approval and collaboration - all for a low monthly subscription fee.
From the moment of the initial order until the last payment is received, DocuVantage OnDemand keeps tight control over the entire process. All the essential documents are stored electronically from Purchase Orders (PO's), confirmation emails, proofs of delivery, adjustments, correspondences, bills of lading and all associated reporting. They are all stored in a single safe repository that you and your staff have access to from anywhere, anytime.
DocuVantage OnDemand® allows you to:
Significantly improve the collection process by removing paper-based inefficiencies
Resolve invoice disputes by giving all your workers real-time access to customer files
Increase workload with fewer employees by automating the process and having workers interact only when needed
Reduce collection cycles to get the money in your hands quickly
Identify inefficiencies and potential bottlenecks
Maintain an audit trail ensuring all your internal business rules are followed and tracked
There are many compliance issues surrounding accounting. Sarbanes-Oxley in the United States, S, Bill 198 in Canada, J-SOX in Japan, etc. All of these require you to keep track and report on all aspects of your accounting system. With DocuVantage OnDemand®, you can ensure you are covered and fully compliant.
In audits, lost documents can mean large fines. Don't gamble with your files.

And DocuVantage OnDemand isn't just an AR solution; you can share the same application with your co-workers in other departments. One Solution for all of your company's document management needs. All of your information at your fingertips using your PC and internet browser from anywhere, anytime.
Set notifications to ensure Net 30 invoices are paid in a timely manner
Rapid Deployment=Rapid ROI
You can be up and running today
Guaranteed user adoption with the user friendly, flexible interface
Keep all correspondences to minimize disputes and chargebacks
Easily manage and store docuements with less staff
Know the status and location of every order in your system
Increase customer satisfaction by ensuring order questions are answered in one call
Enable staff members to view documents simultaneously
Easier compliance, faster reporting and staffing efficiencies
Never misplace a document again
Eliminate rows of filing cabinets and the costs associated with file storage
Kofax integration for production scanning needs
No hardware, software or IT resources needed; we manage the application 24/7