Financial Services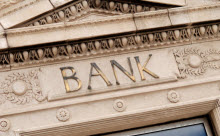 The headlines are changing by the hour. The financial world is going through sweeping changes like never before. Vigilance isn't good enough. Keeping your eye on the bottom line isn't good enough. Good enough is no longer acceptable. You need the best.
DocuVantage OnDemand® is the best. The best at storing all your documents, paper and electronic. The best at tracking all your documents including emails and attachments. The best at creating a workflow to move your documents through your organization. The best at reporting on who viewed, modified, and authorized your documents. One repository for all your financial institution needs whether it is keeping track of a full loan package, your Continuity of Operation Plan, tracking your accounts payable and receivable, reporting on employee expenses or managing your Board documents. Your paper trails lead you to DocuVantage OnDemand.
DocuVantage OnDemand enables banks, credit unions, investment firms and lenders to meet the many challenges involved with building the combination of competitive advantage and compliance to balance your industry demands.
DocuVantage OnDemand allows you to:
Store and Retrieve every document in your repository from your Internet enabled PC
Increase staff efficiencies by allowing them to focus on their job and not the paper trail
Enhance customer and member services
Ensure regulatory compliance
Enable Board members secure access to review and approve meeting agendas, minutes etc.
Immediately access your Continuity of Operations Plan, (COOP)
And because DocuVantage OnDemand is an online software service, there is no extra hardware equipment to buy, no software to install or update, and no IT staff needed to maintain the application. And all features are available with one predictable monthly subscription.

Find out more about how DocuVantage OnDemand® can help Financial institutions like Credit Unions
Rapid Deployment=Rapid ROI
You can be up and running today
Minimal training for all staff with the user friendly, flexible interface
Easily manage and store all records, documents and images regardless of format
Know the status and location of every document in your system
Increase efficiency by ensuring member questions are answered in one call
Enable staff members to view, share and collaborate on documents simultaneously
Easier compliance, faster reporting and staffing efficiencies
Never misplace a document again
Eliminate rows of filing cabinets and the costs associated with file storage
No hardware, software or IT resources needed; we manage the application 24/7