Contract Management Software-as-a-Service
Online Contract Management Capabilities For Your Organization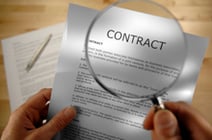 Keeping control of all aspects of contracts from creation to closure to renewals is a harrowing task. Every detail must be managed to the nth degree. There are rewards for success and harsh penalties for dropping the ball. You must track every negotiation and every change from both external and internal parties. And even when the contract is finalized and signed it's not over yet. Are agreed timeframes being met, is there automatic renewal, do you have the opportunity to renegotiate? It is a process that only grows over time. How can you keep track of everything? Certainly not by relying on paper copies in folders or excel spreadsheets on someone's computer. Here's how to keep track of contacts the right way, so you never have to rely on anyone else for your answers.
DocuVantage's Contract Management Solution is an easy to use, affordable, on-demand service. With this document management solution, you achieve version control of online contacts, and there is never any hardware to maintain, software to install or upgrade fees to pay. And you can be up and running in hours or days, not months. Streamline the entire process - from contract creation through routing, approval, collaboration and even retention scheduling - all for a low monthly subscription fee.
Use DocuVantage OnDemand® to secure and keep track of all contracts and related documents (notes, revisions, renewals, etc.) Keep every revision of the contract and track all the modifications from initial creation to final approval. Let DocuVantage OnDemand keep track of your existing contracts by alerting you before they are ready to expire Avoid auto-renewals and give yourself the opportunity to cancel and/or renegotiate contracts.
And DocuVantage OnDemand isn't just a Contract Management solution; you can share the same system with your co-workers in other departments. One solution for all your companies document and records management needs. All your information at your fingertips, from anywhere, anytime.
Rapid Deployment=Rapid ROI
You can be up and running today
Guaranteed user adoption with the user friendly, flexible interface
Know the status and location of all contracts in your system.
Enable staff to view required documents simultaneously
Ensure EEOC and similar compliance
Never misplace a document again
Eliminate rows of filing cabinets and the costs associated with file storage
No hardware, software or IT resources needed; we manage the application 24/7