Healthcare Document Management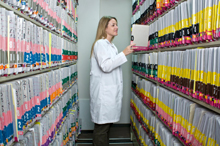 From the moment a patient walks in the door the flood of documents begins. Patient forms, insurance cards, co-payment receipts, physician notes, diagnosis codes, lab results, secondary billing and the ever important HIPAA compliance documents. All of this paperwork for a single visit from one patient.
How much of your office is devoted to paperwork versus patient care? What if every patient file could be securely available on every computer in your office? What if you could guarantee to never misplace, delay or lose important documents? DocuVantage OnDemand® allows you to do just that. Every paper document is scanned and uploaded. Faxed and email attachments including images (X-ray, MRI, etc.) can easily be added by a simple drag and drop of the mouse to ensure a complete patient record.
There is no need to buy any hardware, servers or new computers. Everything is done online. DocuVantage OnDemand is a SAAS (software as a service) application which removes the burden from you. If you have access to the Internet, you can be up and running immediately vs. months with a traditional application. We manage the application, free upgrades, hardware and the data backups.
DocuVantage OnDemand improves your staff's access and collection of everything from patient records to billing all in a single, secure, compliant online solution. Set up workflows to move patient information automatically through your process. Ensure you get all the information needed to complete billing and remove delays. DocuVantage can also handle tracking EOB payments and the information associated.
DocuVantage OnDemand Healthcare Solutions provide these benefits to healthcare providers, their staff and patients:
Secure and immediate access to all patient date from any Internet-enabled PC.
Elimination of duplicate patient data
Ability to search and retrieve documents by keywords (e.g. patient ID, name, address, etc)
Auto OCR can be included to eliminate the need for manual data entry
Ability to keep multiple revisions of patient documents with full access to previous versions
Workflow solutions to remove the shuffling of paper documents
Auto notification of missing documents and data that could delay treatment or billing
Limiting staff paperwork to increase focus on patient care
Complete audit trail of all documents with full reporting of who accessed each document
One location to store all your documents to eliminate lost paperwork
A single predictable monthly fee with no extra budget needed to add hardware or mainta in software
Immediate user adoption
Increased patient and staff satisfaction
In addition to healthcare solutions, DocuVantage includes the ability to improve Healthcare and Medical Back Office functionality in areas such as accounts payable, accounts receivable and human resources. Each department can benefit from DocuVantage OnDemand without having to purchase software and servers or add any burden to your IT staff; all at a low fixed monthly predictable monthly rate.
Rapid Deployment=Rapid ROI
You can be up and running today
Minimal training for all staff with the user friendly, flexible interface
Easily manage and store patient records, documents and images regardless of format.
Know the status and location of every order in your system.
Increase efficiency by ensuring patient questions are answered in one call
Enable staff members to view, share and collaborate on documents simultaneously
Easier compliance, faster reporting and staffing efficiencies
Never misplace a document again
Eliminate rows of filing cabinets and the costs associated with file storage