Manufacturing and Distribution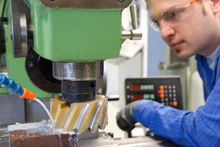 Regardless of your core business, the one thing you can't stop manufacturing is paper. Order forms, invoices, supply requests, employee records, Standard Operating Procedures, OSHA reports, etc. often overwhelm your limited resources. Your people are spending too much time in a paper shuffle and not enough time on important work that adds to your bottom line. What if there was a way to control this paper beast without having to take a bite out of your budget?
DocuVantage® has a manufacturing and distribution document management solution designed for you.
With DocuVantage OnDemand®, you can centralize all of your document storage in one secure online repository. Every paper document, every email, every fax, can all be simply and safely stored and accessed using your PC and the internet. No more clunky filing cabinets consuming valuable and costly space, no more mountains of paper, no more lost or missing documents. You will have the ability to quicky and easily share, route, add notes, and collaborate in a fully compliant system.
DocuVantage also allows you to distribute required reading to all employees, for an affordable monthly subscription.
DocuVantage OnDemand delivers document management benefits to manufacturing enterprises of all sizes.
Rapid deployment equals rapid ROI
You can be up and running today
Minimal training for all staff with the user friendly, flexible interface
Easily manage and store all records, documents and images regardless of format
Know the status and location of every document in your system
Enable staff members to view, share and collaborate on documents simultaneously
Easier compliance, faster reporting and staffing efficiencies
Never misplace a document again
Eliminate rows of filing cabinets and the costs associated with file storage
No hardware, software or IT resources needed; we manage the application 24/7