While the comfort of well-known antiquated paper processes can seem alluring, maintaining the status quo can seriously hold a company back from reaching its full potential.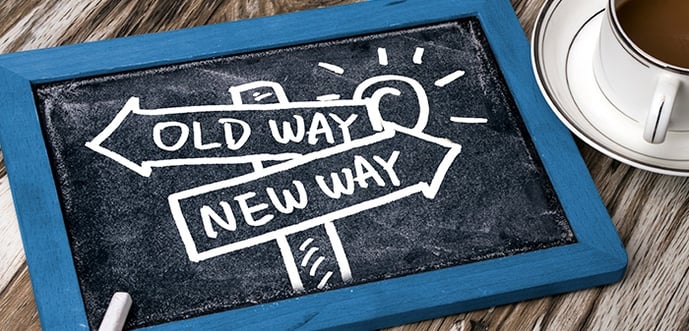 In order to stay competitive, organizations need to continually strive to increase efficiency. JoAnn Theys, during her tenure as Director, Global Finance and Administration for an international non-profit health organization, helped her team break status quo by implementing paperless processes that save a significant amount of time and money.
During her presentation at the 2015 InsideNGO conference, she revealed her strategy for creating a process improvement plan that streamlines the flow of information throughout the organization.
Here are 11 steps to improve the efficiency of complex paper processes.
1. Focus on Major Processes First
Most companies have multiple complex paper driven processes and it can seem overwhelming to think about changing them. Don't worry about the intricate stuff just yet. Pick one process to focus on to get started – one that the majority of the staff use
2. Establish a Process Design Team
Keep it small, but its membership should include 3 key segments:
Those who are integral to the process
Those who complain the most about the process
Staff from the field (if the process is also done by field staff)
3. Outline and Refine Your Workflow
Assess who is reviewing the document, how many times are they reviewing it, and what value they are adding
Check to see if two people are reviewing the document for the same reason, and determine if that's adding any value
Understand the $ thresholds where a document must go to a higher-level manager/director/VP
Make sure you have the "right" delegation of authority, and if it's too low/too high
4. Document the Process
Note who does what and at what stage for the functional design. Include instructions detailing the routing process, and note what happens in the next step depending on the designated team member's course of action (i.e., approving or rejecting a file after review)
5. Keep It Familiar
Design on-line screens to have similar look/feel to existing paper-based forms to increase staff buy-in and ownership, and to promote quick adoption
6. Create Super Users
Involve key staff in the testing phase for super users. For example if the first document process is travel authorization requests, who travels the most or processes the most travel requests? If the first document process is QuickBooks replenishments, who processes the most or most problematic QuickBooks requests?
7. Keep Your Users Informed
Create online how-to guides with screenshots and step-by-step instructions.
8. Test Real Scenarios to Ensure Process Compliance
Hold multiple pre-training sessions with all staff, using a test system with non-live data for practicing (record it, if possible, for field staff's use).
9. Make Super Users Available
During go-live, have super users on site (not traveling) and available to provide hands-on assistance for staff for at least one week (two is better).
10. Train Your Staff
Hold daily go-live training sessions the week of go-live
Hold weekly go-live training sessions after the first week, for a month
11. Assess and Reassess
Hold bi-weekly "suggestions for improvement" sessions with staff for the first quarter after go-live
Make the reasonable changes to the system in a timely manner
Listening to staff feedback and acting on it also helps to increase staff buy-in and ownership, and to promote quick adoption
A More Confident Staff is a More Productive Staff
A solid process improvement plan gives your staff clarity on roles, responsibilities, and authority levels, which leads to effective decision making. With clarity comes consistency in the application of policies and procedures – there are no more exceptions becoming the rule. Information is not misrouted or lost, and duplicate work is not required.
For JoAnn's team, going paperless brought process improvement and a significant increase to the bottom line. If your staff has that, you have a much more efficient, and thus valuable company, on your hands.