The advantages of using document management software are numerous and well-known, but for many organizations it's not so much the decision to adopt this type of web-based technology, but setting priorities for use once it's been implemented and deployed.
According to recent survey of organizations conducted by the Association for Information and Image Management (AIIM), the top three business drivers when considering document management software projects and priorities are the following:
Improving Efficiency

Optimizing Business Processes

Maintaining Compliance
Encompassing all four "C"s of ECM overall (cost, compliance, customer service and collaboration), these top drivers just happen to coincide with the most immediate and longest lasting advantages of an online document and records management solution.
Improving Efficiency
Online document management not only means the end to lost, misplaced, or misfiled documents, it saves incredible amounts of time that might otherwise be lost performing mundane or repetitive tasks.
Consider that it takes an average of four minutes to retrieve and re-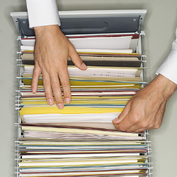 file paper documents if the person knows the exact location of the document. Assuming a staff person files and/or retrieves 100 documents daily, that employee would spend over 1,600 hours a year just on filing. That represents over 75% lost productivity time!
In contrast, document management software enables files to be instantly and securely captured, shared, stored, and retrieved.
Documents are indexed and filed electronically and stored centrally so every authorized user has access to them through an Internet connection, no matter where they are located. With Text Search and the Optical Character Recognition (OCR) features, retrieving documents is as quick and easy as a Google search so employees no longer have to go searching through dusty bankers' boxes or file cabinets to find a file.
Optimizing Business Processes
Most web-based document management systems have some type of built in workflow capabilities to help streamline business processes by eliminating repetitive manual tasks and freeing up staff for more important activities. With rules-based workflow, you can create and automate business processes to coordinate between people, applications, and services. Documents can be routed, reviewed and approved quickly and seamlessly. You can even integrate your document management system with back office applications for even more efficiency.
Automated workflows enable you to define tasks for a department or for business processes that cross various departments while enabling greater collaboration across multiple users, even in geographically dispersed locations. Notifications can be created for pending or new tasks. Collaboration with colleagues is simplified through notes and messages that flow automatically with individual documents or processes.
Maintaining Compliance
Audits are a daunting reality for any organization. Today businesses are making considerable modifications to their IT systems and internal processes to comply with federal regulations and mandates such as Sarbanes-Oxley Act, OSHA, and SEC. Online document management systems make this easier with built-in audit trails that provide access histories and transactions for each document.
Some solutions make records management more convenient as well by integrating with the online document management application, thereby allowing users to set retention parameters for relevant files and documents. Online document management is an outstanding way to better prepare your organization for audits and protect it against litigation, thereby eliminating the potential for fines and penalties.