Few people probably remember the 5 and Dime thrift stores which populated the landscape of small town America. We used to call them Mom & Pop shops! Today, many of those businesses are being replaced by a handful of global corporations which dominate the marketplace due to years of mergers and acquisitions.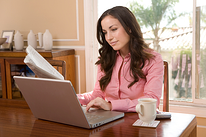 But small business is not dead. According to the Small Business Administration (SBA), a division of the US Department of Labor, small firms constitute over 99% of companies and employ approximately 60% of workers in the United States. A small business is typically classified as having less than 500 employees; in fact over 3.6 million small businesses have no more than four!
The caveat is that only 30% of small businesses typically survive beyond two years. With so much competition many simply do not endure.
So what can a small business owner do to ensure sustainability? One easy way is to transition more of your business documents and processes to cloud computing platforms, which are delivered over the Internet.
At business startup you began using the cloud without even realizing it. Your e-mails and website are hosted by your Internet Service Provider (ISP) in the cloud. In the beginning your only infrastructure cost is your computer. As your business grows however, the need for flexibility coupled with increased cost control requires the smart small business owner to search for IT alternatives.
One type of cloud computing is Software as a Service (SaaS). This refers to software you would normally install locally on your computer, but instead receive over the Internet. One specific type of SaaS application is electronic document management.
Moving your small business documents and processes online makes sense for 3 reasons:
Cost
By using online electronic document management to manage your mission critical documents, you eliminate virtually all overhead associated with hardware and software purchase, backups and upkeep. In house IT infrastructure and support are not needed; this is all managed by your provider. With a SaaS subscription solution you can sign up and begin using it the same day.
Cost savings are not only measured in money, but also in time. Your provider takes care of application maintenance, data back-ups and new functionality upgrades, freeing up your time to focus on your business.
Efficiency
Productivity is key when you run a small business. You have limited resources and need to be efficient in order to compete. Online document management facilitates this by streamlining your information management processes and automating business workflows in order to gain maximum productivity from every employee in your company.
Processes that used to take days or weeks can now be achieved in hours or minutes. Consider how this level of productivity contributes to employee morale and customer satisfaction!
Security
Online document management delivered via the cloud is highly secure. Your business critical information is stored in a Tier IV data facility with distributed redundancy and greater than 99.9999% availability. This means access to your data 24/7 over the Internet, from anywhere your business takes you.
Find out how online document management benefits one of our real estate small business customers!