When it comes to in-house security, there are endless measures to take in order to prepare for a disaster or a computer environment threat:
Are sensitive areas such as server rooms or records storage rooms restricted and secure? What prevents un-authorized access? Is it a key that can be easily copied? A code that is easily shared? Where are your backup tapes stored?
Do you have a security policy in place that requires employees to keep their desk clear so business critical information is secure when the employee is away from their desk?
How do you regulate what files employees can take out of the office? Are they saving copies of confidential documents on their desktop or laptop? What happens if they lose a file or their laptop? What happens if that information is stolen? What costs and penalties do you incur?
If an employee is dismissed and goes into the company system and deletes files how will your business be affected?
Preventative security measures are often time-consuming to maintain and extremely difficult to monitor.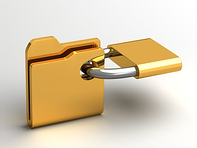 With an online document management system, these threats are no longer issues. In order to access the application, a user must log in with a username and password. Through a multi-level security model, administrators can regulate which employees have access to certain documents. If an employee is away from his or her desk for a designated period of time, the system will automatically log the user out to prevent unauthorized access to the system.
Preventing users from having the ability to delete company files eliminates the worry of rogue employees that may attempt to take this type of action against the company. Traditional software and operating systems inadvertently train the employees to make multiple copies of document files and to save the documents to their desktop or network folder. How many copies of varied versions are out there on your network and on their desktops? Remove their need to copy and save. What if the laptop is stolen? All the information has been copied and available for anyone's eyes to see. This can be a major risk for the company.
If the information is available and accessible through a secure, online portal from anywhere, anytime, the staff will stop copying files. The application will check-out the document when they are editing, leaving the most recent for others to view and collaborate on but preventing them from editing at the same time. It will manage and retain all versions in one secure location and then the document can be checked back in.
Information back-up is always a concern. The ideal online document management system stores the data within an off-site Tier IV data facility with multiple levels of security, redundant power, and redundant networks, which means by subscribing to this type of system, you have an automatic disaster recovery plan. In the case of a fire, flood or other natural disaster, your information is safe. Another worry that can be removed is your infrastructure security. The application is not accessible from the back end so there is no need to worry that files are being altered. This provides an extra level of security that is difficult to accomplish with on-premise solutions.