Document Management is suitable for ANY size business. And every business should address document management. This means addressing the fact that you may be holding onto information or files you should have already purged. Document management can be about implementing an automated, electronic process for paperwork with new employees. Or maybe it is having a system that will instantly find the document you need, through a simple system search.
Small businesses, you are not too small for document management. Small businesses make up a large portion of our client base and because you are so focused on staying lean and green, you have incredible success using technology tools to stay that way and grow faster! Even you can save money by reducing document storage costs and improving overall business productivity.
We are beginning a series of articles that discuss the 8 Reasons Businesses Should Use Hosted (Software-as-a-Service) Document Management. Here you go... starting with reason #1.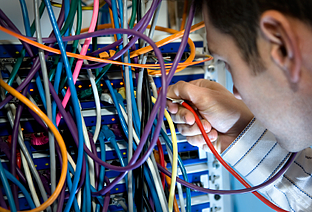 1. Don't add to the server closet - clean it out!
Avoid adding to the "server closet" and move your information online. The best SaaS Document Management solutions operate in a Tier IV data center with redundant hardware, networks, and power so that you don't have to worry about down time. These data centers also provide physical security with very limited and controlled access. Systems are monitored and support 24 hours a day, 7 days a week.
A typical On-Premise Document Management solution requires a dedicated server for the application. Some even require a dedicated server for their web access service and another server for storage and yet another server for the database. That's a lot of servers that you have to worry about. That means appropriate staffing and training. Not to mention the effort involved in installing patches, updating the OS (operating system), replacing aging or defective hardware and all the other things that go with managing servers.
With a SaaS Document Management solution, your service provider is the one that has to worry about all of those things.
Stay tuned for reason #2. Don't spend all of your money...when it's not necessary, which will be released later this week.