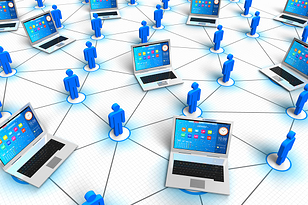 A systematic business process workflow does four crucial things for your organization:
It maps outs out each team member's daily tasks, keeping them on track, comfortable, confident and constructive throughout the day.
It clears out bottlenecks and staves off redundancies that put big-time dampers on production efficiency, work quality and employee morale.
It keeps your organization compliant with legal and financial regulations.
It enforces your organization's practices, from simple operations to more complex methodologies, to keep everyone on the same page and conquering projects like a well-coached team.
But a workflow engine only operates like the well-oiled machine it should when rules and guidelines are defined by management, accepted by employees and followed by everyone.
Incorporate these five business process management (BPM) steps to break down and build up your workflow engine:
1. MAP IT OUT
Determine all the documents and information that run through your company, then lay them all out via process mapping.
A whiteboard is the best platform because it gives you a chance to step back and really get a panoramic perspective on your process flow.
Include your team in this process and take it all in together: the inputs, the outputs, the strengths and the weaknesses.
Analyze each step and question their utility, relevance and timeliness.
Encourage everyone to spotlight the redundancies and bottlenecks. The more voices and perspectives you have, the more accurate and easier it is to process your processes.
For better comprehension and consistency, use pictures or graphics to represent each step of the workflow process.
Use the following language when process mapping:

Start: designates the commencement of the process
Process Step: designates the action of the process
Data: designates the supporting facts of the process
Decision: designates an evaluation in the process
Connector: designates the progression of steps in the process
Role: designates the participants in the process steps
Terminate: designates the end of the process

When completed take pictures to document the flow.
A typical organization will gain 15-20% efficiency just by mapping their process. People immediately see corrections that can be quickly made.
2. NIX THE EXCESS
Most business process redundancies result in errors, which open that dangerous door to revenue depletion. Because a business workflow maps out each step, it's easier for you to highlight the weak links in your company's operations. Eliminate waste and inefficiencies by nixing, replacing or revising uneconomical business processes that add no beneficial value to your organization.
3. SINGLE OUT THE DUPLICATIONS
In any company, from small startups to Fortune 500s, communication lapses happen. It's unfortunate, yes, but an undeniable facet of human nature. Miscommunication between departments often culminates in team members either duplicating their efforts, reviewing items that have already been reviewed or skipping over a crucial step because they were under the impression that it was completed.
These communication hiccups may be inadvertent, but the negative consequences they unleash are quite unforgiving to your organization's productivity. Hashing out these hiccups is so important, and much easier when you take the time to do it right.
Workflow analysis makes uncovering errors easy, as you're now able to view documentation from the beginning of the process.
Look at your workflow as a series of footprints you follow to retrace your steps. This takes time now, but it saves countless hours, lights a fire under productivity and increases revenue down the road.
Detailing your business process flow in this way gets you on track to avoid communication lapses: laying down the visual pipeline you need to clearly differentiate the work that's been done from what has yet to be completed.
By optimizing the processes as demonstrated in the previous 2 items, organizations gain another 20-25% in efficiency.
4. MULL OVER THE RISKS
A successfully illustrated business workflow not only provides powerful insight into the risk factors your organization faces, but it also pinpoints the areas from which these risk factors originate. This is key to determining whether or not eliminating a step in your process is a good idea.
Assessing the risk involved with task elimination is not only important for productivity purposes, but it's also crucial to keeping your organization in legal compliance.
If your business process is automated using workflow software – more on that in the next (and last) step! – it should provide a clear audit trail, viewable at each stage. Workflow automation enables accountability from stakeholders at every level, keeping your organization consistent … and keeping auditors at bay.
5. OPTIMIZE WITH AUTOMATED EASE
Even with an established and visualized business process in place, internal and external deliverables are bound to become disorganized over time. No solution works forever: Shortcuts and miscommunication are inevitable, both in the business realm and in the "outside world." Your organization isn't stagnant, so your business process workflow shouldn't be either. Enter: your document management system augmented with workflow management software.
Workflow automation allows processes to be reviewed, questioned and revised whenever and however you want.

Workflow automation enforces the rules and regulations of a traditional workflow and mitigates compliance errors by removing the human element, which is always prone to error.
Workflow automation creates the shortest distance between individual points A and B, and, as a result, between comprehensive process start and termination. Less process frustration = more effective collaboration = better workplace morale.
You can gain another 10-15% efficiency by automating and integrating your process flows into the business and technology environment.
THE TAKEAWAY: Every business is different. Your company's business workflow must address your specific needs, goals and objectives. It's all about making a unified team effort to document the productive utility and regulatory necessity of each task, getting diversified perspectives on each step's relevance and then leveraging customizable workflow automation software to continuously optimize your business process flow. That's the best (and only) way to get your organization pulsing with efficiency and spirited morale.
Workflow efficiency isn't restricted to profit-driven businesses! Click below to download DocuVantage's free report: Accelerating NGO/NPO Service Delivery Through Process Automation.