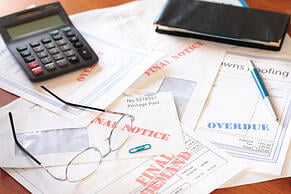 Bill collection. Does that phrase send shivers down your spine? It probably does for your account reps. When your accounts receivable management (i.e., turning orders into cash) is inefficient or susceptible to error, your entire business is thrown into disarray. The accounts receivable process is the backbone of your organization's financial stability. But it's more than that, too: It's the difference between employment enjoyment and occupation frustration for your AR team.
To streamline, you need to take it online.
To achieve order-to-cash process improvement, you need order-to-cash automation. And you do that with a document and records management system that's designed and customized to help you move things in the positive direction with the following facelifts:
Making your business more attractive in a market fueled by efficiency.
Making your AR people more productive in a system prone to deficiency.
Don't fall into the manual lull.
When done manually, AR processing takes way too much time and results in far too many errors. The "manual lull" is simply incompatible with today's on-the-go, in-the-cloud market. All that paper pushing you're doing? It's just edging you closer and closer to that grid-iron gate of inaccurate financial reporting... a territory you do not want to venture into.
According to Aberdeen Group and the population of AR leaders they polled, AR is in a sorry state:
27% feel neutral about their accounts receivable management.
33% are dissatisfied.
53% rely on manual matching of funds.
The biggest complaints? Errors, lack of visibility and time-wasting, sanity-draining processes that steal time away from the things they should (and want to) be doing.
Speed breeds freedom.
An automated records management system speeds things up, enhances accuracy and gives your AR team the freedom to focus on more complex and analytical issues.
By automatically importing invoices into a document management system, your reps have fast and easy access to all customer records. One central place to store and retrieve every record they need: from purchase orders (POs), confirmation emails and proofs of delivery to adjustments, correspondences, bills of lading and all associated reporting.
Just say no:
No more hours (or days) spent waiting for paper copies of invoices.
No more frustrating, back-and-forth payment calls with customers and clients.
No more playing the part of accountant without proper access and visibility.
And refine your flow:
Better collection process = no more paper-related bottlenecks
Real-time access to customer files = no more invoice disputes
Automated processing = no more employee-to-workload inefficiency
Automated processing (again) = no more misplaced or mishandled records
Streamlined collection cycles = no more waiting for money
Identify inefficiencies and potential bottlenecks
Clear audit trail = no more compliance issues
Don't gamble with your records, your financials or your employees' happiness and employment satisfaction. Streamline and save time.
Does your business process flows need an upgrade? Before you call in a consulting firm, read this eBook: Introduction to Business Process Design.