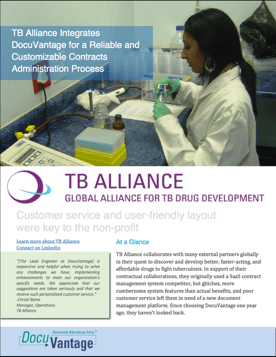 As a nonprofit product development partnership (PDP), TB Alliance collaborates with many external partners globally in their quest to discover and develop better, faster-acting, and affordable drugs to fight tuberculosis.
In support of their contractual collaborations, they originally used a SaaS NGO/NPO contract management system competitor, but glitches, more cumbersome system features than actual benefits, and poor customer service left them in need of a new document management platform. Since choosing DocuVantage one year ago, they haven't looked back.
Click here to read the case study and learn how TB Alliance integrated document management for a reliable and customizable contracts administration process that saved over $22,000 annually, reduced document retrieval time by 50%, and reduced contract record setup time by 30%.