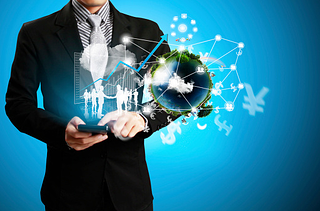 No matter what kind of business you have – construction, marketing, home decorating, professional services, retail, manufacturing or industrial, you name it – you have bills to pay. It's the (oft-unpleasant) nature of the market: Every company is "chained" to an accounts payable process.
But this accounts payable (AP) chain doesn't have to be clunky, uncomfortable and costly. It doesn't have to choke you of your resources and strip you of your sanity. In fact, the AP chain becomes much less chain-like when you embrace paperless office software.
There's no need for AP to put you the weeds.
There's no need for your AP department to cost your company extra money in missed early-payment discounts, late fees, lost invoices, dozens of calls, emails and faxes.
There's no need for the simple action of paying one invoice to cost you at least $14 per person in time and resources – with that one invoice being just a single molehill in a mountain of invoices, shipping and utility bills, etc.
There's no need to struggle in a paper-based office environment: an uphill battle that's not worth the time, resources and mental stamina to keep up the continuous fight.
Trade in that AP chain and get in the game.
A paperless document and content management system is an easy to use, affordable and on-demand service for your accounts payable process. No hardware to maintain, no software to install and no upgrade fees to pay. Plus, you're up and running in hours or days, not weeks or months.
What does paperless back-office software do for your AP management?
Streamline the entire AP process: document management, routing, approval, collaboration, archival and even records-retention scheduling.
Save time and money for your vendors by allowing them to submit electronic invoices.
Save your own time and money by evading all that manual mail opening and physical invoice delivery to your AP team.
Keep everyone in the know about invoice statuses and location at all times.
Set up instant access to invoices for approvers, regardless of their location.
How does an electronic document management system really work?
A few bullet points listing benefits and functions can only go so far. You need a real-life example. So here's a typical paperless-AP scenario, one you want to implement into your organization as soon as possible:
Invoices are emailed to your organization.
The email tool automatically enters the invoice into the AP workflow.
The invoice is routed to the members of your AP team based on their permissions for review and/or approval.
Data from invoice can be manually entered into accounting system or it can be set up to grab the info necessary and enter it automatically into accounting system.
If needed, the workflow can also route invoices to additional reviewers in other departments based on the process rules that are set up.
Approvals are recorded electronically, so no one has to print and sign anything.
Reviewers can also collaborate on the invoices if they have questions. So instead of conversations taking place in email they are taking place in a secure environment and attached to the invoice as a separate note.
Put the flow in workflow.
We've talked many times before about the struggle companies face when it comes to managing their daily process flow. Good news: By design, paperless office software that streamlines your accounts payable process also streamlines your workflow. That's two ground-breaking wins for [insert your organization here].
Here's how that paperless document management system whittles down your workflow and opens the door to game-changing process improvement:
Get fastidious vendors on your team:

Flag incoming invoices from vendors who want to be paid on a out of the norm schedule.

Get some extra points on the scoreboard:

Some vendors give bonuses for paying early. Some vendors penalize you for paying late. Play both situations to your advantage.

Play in the big stadium, under the bright lights:

When everything's confined to paper, you don't know where invoices are in the AP process.

With the visibility of an information management system

, you now have control to 1) use fewer resources for mundane paper pushing, 2) keep track of cash flow, 3) gain insight into process-clogging bottlenecks and 4) take advantage of ground-breaking (and otherwise unseen) capital gains.

Put your team on high speed:

Speed up the review and approval process. Set up customized notifications to let people know ahead of time when things aren't on schedule or critical records are stuck somewhere in the system.

Get the coolest jerseys in the league:

These days, document management software is incredibly customizable. You don't adapt to the system; you adapt the system to your business. Don't expect (or accept) an out-of-the-box, off-the-shelf "solution" when it comes to the best workflow management and document control tools out there.
We could go on about the game-changing, ground-breaking, battle-winning benefits of paperless office software, but we know you're short on time. So click the button below to download our free and helpful guide: 4 Simple Steps to Achieving OnDemand Document Management.
Read on your time, at your leisure.