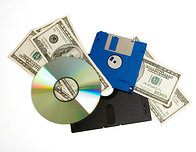 All business owners are concerned with the money flowing into their companies, but what about the money going out? The accounts payable manager has the task of making sure money is flowing out of your business accurately and on time.
Accounts payable software tracks the movement of invoices that the accounts payable department receives for payment. The approval process, including manual data recording, is the greatest expense in the accounts payable process, and manual data entry is prone to human error. Employees are more likely to make mistakes when they are entering invoices by hand. Accounts payable workflow software, combined with document capture software that sends the data to the software once it is extracted, makes financial oversights less likely because everything is electronically automated, entered, routed for approval and archived.
When you're tracking invoices that are due for payment, it's vital that these files are accurately monitored. This ensures your company is successfully managing its cash flow, which in turn ensures you achieve and maintain strong financial health. An accurate accounts payable process makes sure every dollar leaving the company is documented.
Pay Bills on Time
Your business has many varying expenses, from office supplies to advertising costs and utilities. An efficient system alleviates balance sheet inaccuracies caused by unpaid invoices. The window of time allotted to pay many bills is small. In most cases, when your bills exceed 30 days past due, financial penalties ensue, adding undesirable financial losses to your company's bottom line. Some creditors offer discount incentives for paying invoices early. When you're able to control expenses in a structured and timely way, overall company revenue increases. With accounts payable process automation software, you gain an accurate picture of who you owe money to and when it is due.
Accounts payable document management speeds up the process of issuing checks, preparing reports and ensuring no duplicate payments get issued. When deciding on which vendors to pay early, accounts payable document workflow software can highlight the vendors who offer discounts for early payment.
Avoid the Headache
The accounts payable department handles more than just billing. Staff members deal with contacting numerous vendors and handling various financial transactions on a daily basis. Implementing an accounts payable software system increases data entry efficiency and saves your staff hundreds of hours. When you implement a successful document management system for accounts payable, you are able to manage your AP process through a central location. This puts the control of all invoices and payment status information back into your accounting department's hands.
Keep Vendors Happy
When a payment is lost or late, a vendor might use this against your organization in future dealings and transactions. There's also the strong chance these merchants won't want to continue working with you. Paying bills in a timely fashion ensures that trust stays strong between the parties involved in the process.
When your company is trying to keep expenses lean, there are times when you need to extend payment due dates. Your vendors are more likely to accommodate you if they know your past track record for timely payments. Accounts payable automation makes sure the correct invoices move swiftly and accurately through the approval process.
Go Economical
Working paperless has many valuable cost-saving benefits for your business, not to mention positive eco-friendly effects. Your workspaces are a lot less cluttered when files of invoices aren't stacked up. In addition, you avoid the hassle of postage, toner and paper, which all cost money and waste valuable time. Your employees never have to search through boxes or file cabinets for the invoices they need.
Accounts payable software is guaranteed to cut down on the wasteful expense that incurs when payments are made late or paid incorrectly. A successful accounts payable process allows you to track the entire payable cycle, giving your bookkeeping staff complete control over all invoices coming through your organization. Paying certain vendors early allows you to take advantage of early payment discounts to save even more money. Your accounting process is going to run smoother, faster and deal with a significantly less amount of unnecessary expenditures.
For more accounts payable software tips, read our informative, free whitepaper, "Document Management Best Practices for Organizational Success."