Inbound Marketing Content Management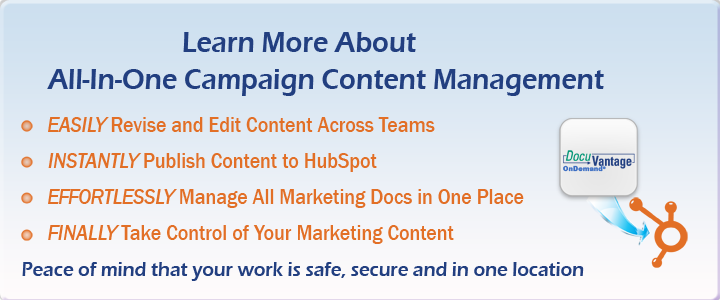 Special Offer for HubSpot Users
When it comes to sharing your content with prospects and customers, HubSpot has it down to a science. But keeping all of your inbound marketing content organized and accessible isn't easy. That's why DocuVantage has partnered with HubSpot to create the first complete inbound marketing content management system to facilitate your marketing asset management efforts.
For a limited time only, we're offering HubSpot users a 90-day free trial of DocuVantage's inbound marketing collateral management solution. This exclusive offer includes:
DocuVantage OnDemand® Campaign Content Management - free for three months and for up to 10 users at each organization.

DocuVantage conducts in-depth web training on how to use your new inbound marketing content management system to accelerate your marketing.

DocuVantage will pay for a case study to be written that highlights your organization and provides a link back to your website.

DocuVantage will submit and market that case study to websites in your industry, in turn driving more links to your website.
What's in it for us?
Good question. As a HubSpot user, you know that data is the key to improvement and peer reviews are the key to building trust. All we ask in return for this free trial period is:

You agree to provide feedback and notice of any issues found in our HubSpot version of DocuVantage.

You provide a testimonial that can be used on HubSpot or the DocuVantage website. Our joint marketing teams will approve any testimonial before it is published.
Ready to get started? Simply fill out the form on the right to begin your inbound marketing content management system free trial.

How Do You Manage All the Pieces of Your Inbound Marketing Campaigns?
With blog posts, website pages, calls to action, social media posts, white papers, e-books, graphics and more, it's easy to lose control. Let's face it; there are a lot of moving pieces when it comes to creating successful inbound marketing campaigns.
It does not matter if you store your documents on your desktop, your hard drive, network storage or even some type of cloud storage. Finding what you need when you need it is next to impossible for you and your marketing team.
Now you can take control of all your marketing content.
Imagine having one repository for all the pieces for all your inbound marketing campaigns. Introducing DocuVantage OnDemand for HubSpot, the All-In-One campaign content repository.
With DocuVantage OnDemand you can:
Easily revise and edit content across teams
Instantly publish content to HubSpot
Effortlessly manage all marketing documents in one place
Finally take control of your marketing content
DocuVantage does this with:
Secure document storage
Internal messages that keep content in the system, in control and out of e-mail
Revision control that protects your documents and your team's ideas
Structure that enables any user to easily find content quickly