How to Improve Your Business Processes: An Introductory Guide
Learn the Secrets to Improving Business Process Flow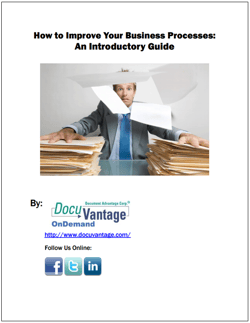 Does your business process design need an upgrade? Before you call in a business process consulting firm, read this eBook.
Many business processes are in place for historical reasons. Sometimes companies don't even know why certain processes are carried out the way that they are. You need to improve your business processes with your business and its workflow in mind.
In this eBook, you will learn:
How to review and assess the current state of your business process design
Where your business process flow can be automated and improved
Why business process design saves you time and money
This introductory business process design guide also includes a case study of an Accounts Payable department that implemented an electronic process and successfully:
Reduced their costs
Improved their business processes
Increased their security
Organized the information in their department
Learn how you can improve your business process design and workflow to save your organization precious time and money.
Fill out the form to download the free eBook today!