8 Marketing Asset Management Strategies Your Agency Needs to Know
What Gets Automated and Streamlined Gets Improved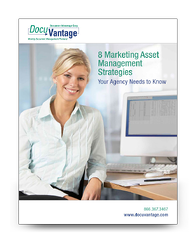 Let's face it: The creation, editing and approval of marketing assets is not an efficient process (to put it lightly). But with powerful marketing asset management software, the game changes for your campaigns.
This whitepaper opens your eyes to the opportunities of marketing asset management.
Learn what marketing asset management is.
See how it solves your marketing pains.
Get the eight strategies your agency should implement to take full advantage of comprehensive document management.
Fill out your email address in the form below to download this whitepaper and start automating and streamlining your marketing assets to campaign success.