7 Ways Workflow Software Changes the Game for Your Organization
Improving Information Movement with Powerful Workflow Tools
When your business workflows are not flowing efficiently, you open the floodgates to: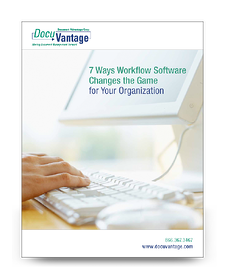 High costs
Inefficient processes
Time-wasting bottlenecks
Errors
Accountability issues
Compliance shortcomings
Impediments to customer relations
The golden ticket to a lean and powerful workflow? Workflow management software.
This guide opens your eyes to the seven ways workflow software and process improvement tools change the game for your organization by improving your:
Information flow
Cutting costs
Eliminating bottlenecks
Reducing human error
Fill out the form to download this guide and start streamlining your workflow management.